Any arbitrary analog waveform as stimulation signal
A stimulus isolation unit (SIU) is included for each stimulation channel. Therefore, no external SIU is required. You just need to plug in your STG and start your experiment.Every stimulation channel is freely programmable. You can design any arbitrary analog waveform as stimulation signal for every single channel. There is no need to combine channels to achieve complex stimulation patters, but they can be created for every separate channel either by the included software MC_Stimulus II or by downloading any biological signal to the STG.
TTL In/Out for every stimulation output
The stimulators can receive and deliver TTL pulses via BNC connectors for every single stimulation output.  These triggers allow you to control and synchronize other instruments like imaging systems, LED-lights,  data acquisition systems, and many more – at a 20 μs precision.

Voltage or Current modes selectable via software
The STGs of the 4000 series offer the possibility to select the output mode via software. This way, you can switch between voltage and current stimulation easily and quickly.
For the perfect adaption to your experiment, you can select between STG versions with three different current outputs, the voltage output stays the same, no matter which version you choose.
Dynamic online changes and downstreaming
Dynamic online changes and downstreaming
The stimulus generators of the 4000 series are the only commercially available pulse generators that can dynamically change the output signal and downstream pulses during stimulation. Thus, you can stimulate continuously over several days, weeks, even months, and generate stimulation sequences on the fly during the experiment.
Imagine the possibilities of the system, like feedback studies or modulated white-noise stimulation. The Stimulus Streamer, a basic program for loading and playing ASCII and MP3 files, will be provided, but you can integrate the program controls (DLL) into your custom program as well. For example, you can use biological signals recorded with your custom data acquisition system and feed the data directly into the stimulus generator, making it perfect for neuronal network studies.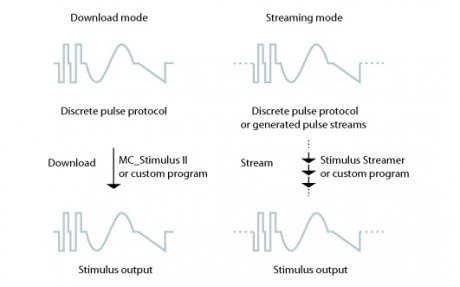 Manufacturer