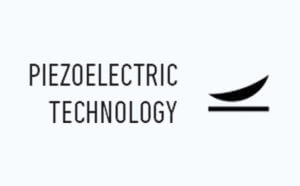 Best performance & affordable: Piezoelectric Technology
The OB1 MK4  by Elveflow is the only microfluidic flow control system in the world to use piezoelectric regulators,
enabling a flow control that is 20 times more precise and 10 times faster than the other flow controllers on the market
Customizable & upgradable: 1 Module, up to 4 channels, 5 pressure  & vacuum ranges available
The OB1 MK4  can be configured, and upgraded at a later date, in any way you want,
with up to 4 pressure and/or vacuum channels (and more as custom) on one piece of equipment.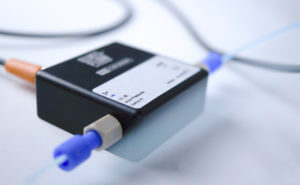 Fastest flow rate control when paired with a flow sensor
You can connect a standard liquid flow rate sensor (MFS)or our premium
Coriolis flow sensor (BFS, suited to both liquid and gas) to your
OB1 MK4  to control directly the flow rate in your chip. The system continuously calculates the
pressure to apply in order to maintain the desired flow rate.
Full control software & SDK
A single and intuitive software to get started in a few clicks and further automate the most complex and long lasting experiments. The SDK libraries to control the OB1 MK4 with your own code and involve third parties instrument are also available.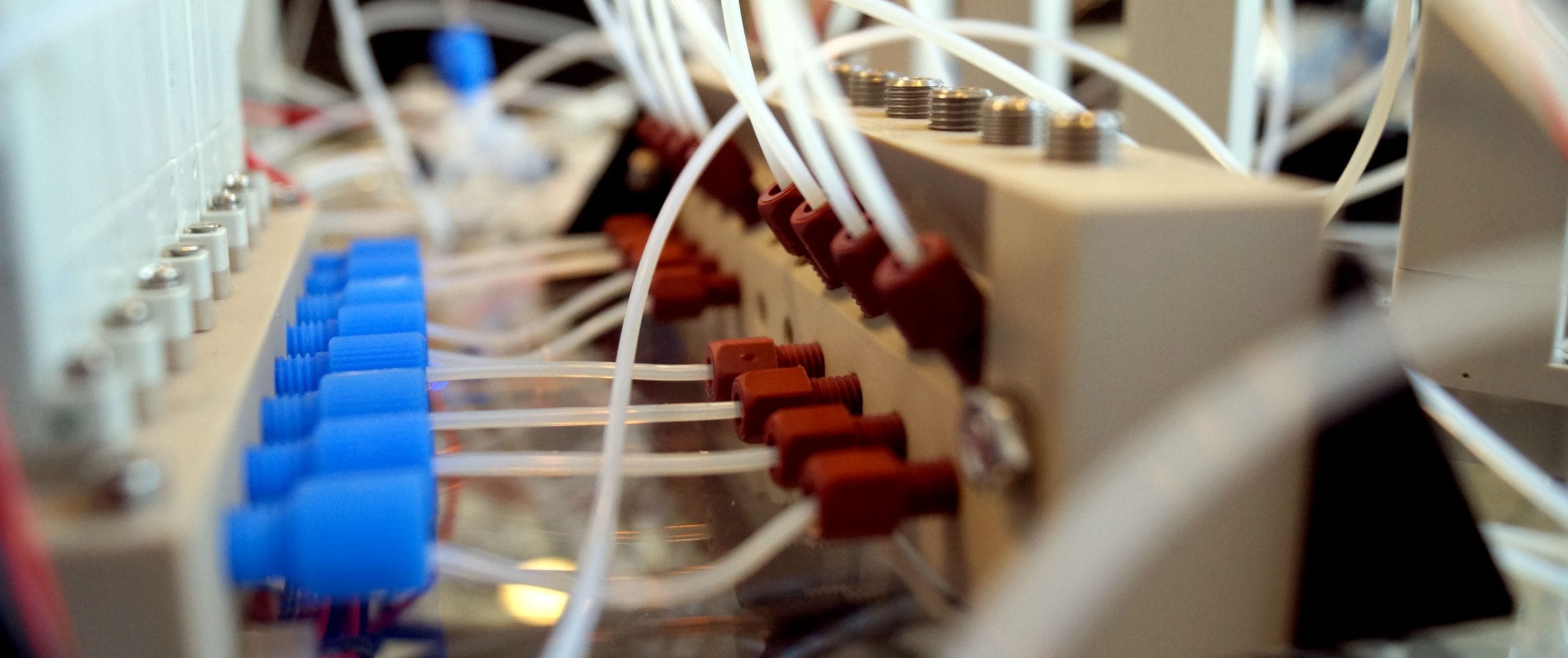 OEM version available
The OB1 MK4  can be used on a bench setup and also embedded in your own product.
Elveflow has a solution for every step of your research & development.  Discover our OB1 MK4 OEM solution.
Advantages of Pressure control in microfluidics
Fast settling time (down to 40ms)
High stability and pulseless flow
Possibility to handle fluid volumes of several liters
Enable both flow and pressure control when used with a flow meter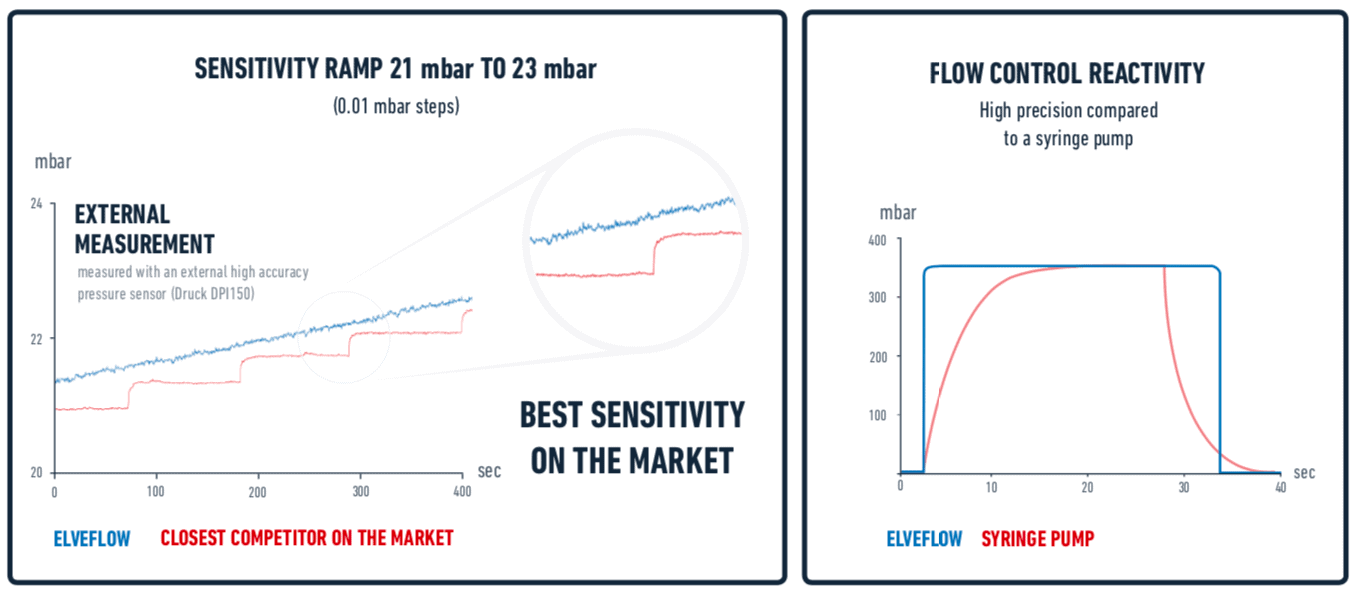 For more details about Pressure driven flow control, please read this application note.
GET THE PERFECT INSTRUMENT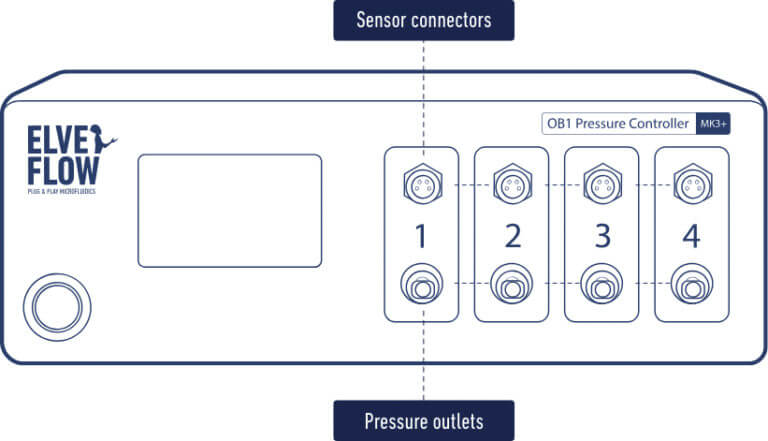 Directly connect a flow sensor – Control the flow inside your microfluidic setup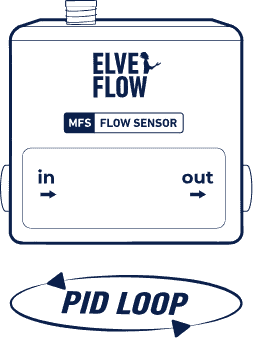 By connecting a MFS or BFS Flow Sensor to the OB1 MK4, you enable direct rapid and precise regulation of the flow rate. The PID algorithm of the software reads the flow rate and adjusts the pressure accordingly to reach the target flow rate with speed and precision.
5 pressure ranges for each channel
Choose the pressure range best suited to your need
We have several pressure channel options available covering a wide range, up to 8000 mbar (116 PSI) and down to -900 mbar (-13 PSI). Choose the pressure channel that covers your experimental pressure requirements.

Choose between 1 to 4 channels, and more…
How many channels do you want?
The OB1 MK4 is a compact module that can accommodate up to 4 channels (pressure and/or vacuum). Each module can be upgraded at any time and have channels added or changed. You can control as many channels as you want with one computer.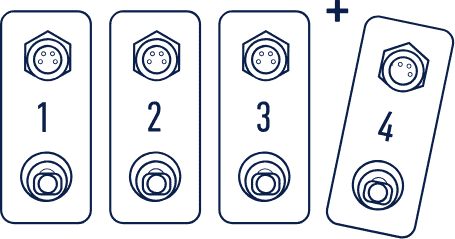 Need more channels on one module (8, 16, 64…. or even more)? Our custom service would design a specific pressure controller that fits your needs.
Applications
Manufacturer