It takes place on Thursday December 13th 2021
NBT Is going to attend the 6th Israeli Zebra Fish Conference.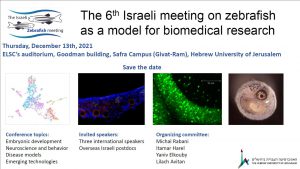 Our booth will show the latest version of the Danio Vision – the system to track zebra fish larva and more in a controlled environment.
Perfect for startle response, Optogenetic and circadian activity monitoring.
This system is in use in all the behavioral zebra fish labs in Israel and has been generating excellent result the past 12 years or so.
See you there!!
The NBT team