by Sara Kruper, a DSI blog
Air pollution is always a hot topic in the news and can be controversial, but what does the scientific research show?  According to the World Health Organization (WHO), exposure to outdoor air pollution leads to approximately 4.2 million deaths annually.
1
  They also report it accounts for: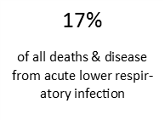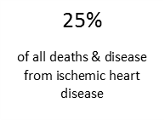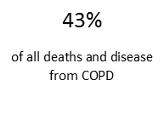 Several types of pollutants can lead to health concerns including particulate matter, ozone, nitrogen dioxide, and sulfur dioxide.  These pollutants enter the air through both natural means and human actions.  Forest fires and dust storms are common natural polluters.  Common human polluters include vehicle fuel combustion, generation of heating and electric energy, industrial facilities, waste sites and incineration, residential cooking, and heating or lighting with polluting fuels.1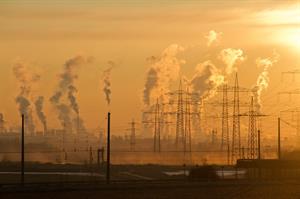 Outdoor air is not the only place living things are exposed to pollution.  Activities within the home can also cause pollution which may have negative health effects.  The WHO reports 3.8 million deaths annually from exposure to household air pollution.  In fact, it is associated with approximately 50% of pneumonia deaths in children under five.  Common indoor pollutants include particulate matter, carbon monoxide, ozone, nitrogen dioxide, and sulfur dioxide generated from home products, mold, building materials, burning certain fuels, and more.1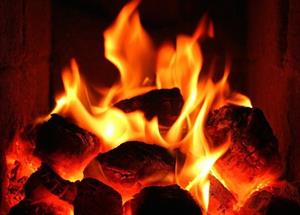 Particulate matter is one of the most concerning pollutants as studies have shown a direct connection between exposure and impaired health.  Considered most harmful, small particles (PM2.5 or less) can affect the lung's ability to exchange oxygen with carbon dioxide, and in some cases even enter tissues and organs.1
Many researchers are looking at the effects of pollution on public health including many academic institutions, the Environmental Protection Agency (EPA), Centers for Disease Control (CDC), National Institute of Environmental Health Sciences (NIEHS), and more.  Funding for air pollution research comes from both public and private sources.  The NIH alone has provided an estimated $115 million in 2019 research grants for the study of health effects caused by indoor air pollution.
DSI solutions assist preclinical researchers in studying the effects of air pollution on animal models to understand its impact on public health and potentially identify new ways of circumventing negative effects.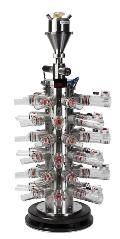 Creating an animal model of pollution exposure
Humans are often exposed to pollutants through the breath.  To mimic this in animals, DSI's Buxco Inhalation Exposure System allows researchers to expose their animals to pollutants in a controlled, uniform way.  The inhalation tower ensures all subjects receive a consistent dose, determined by the user, and eliminates re-breathing with a flow-past design.  Researchers can deliver pollutants such as ozone and particulate matter from various sources.  As tobacco smoke is also considered a pollutant, the system allows for incorporation of a smoke machine to deliver smoke from traditional cigarettes or button-less e-cigarettes.
Below is one example of a publication citing the use of DSI's inhalation exposure solutions to study the effects of particulate matter.
Inhalation exposure to three-dimensional printer emissions stimulates acute hypertension and microvascular dysfunction
Three-dimensional (3D) printing has grown in popularity over the last several years, but many do not realize these devices emit particulate matter which can have adverse health effects.  The researchers in this study exposed rats to 3D printing emission aerosols using DSI's inhalation exposure system and studied the effects on cardiovascular function.  Their results reflected an increase in mean arterial pressure (acute hypertension) and dysfunction of systemic microvasculature following exposure.  The team concluded the risk associated with exposure can be mitigated through appropriate ventilation and engineering containment strategies, of particular importance for those with preexisting conditions.2


Effects of air pollution on the cardiovascular system
Exposure to air pollution has been shown to increase cases of cardiovascular diseases such as hypertension and arrhythmia.  Researchers can use DSI's PhysioTel™ telemetry during or after exposure to assess its effects on the cardiovascular system.  DSI telemetry offers the flexibility to measure cardiovascular (blood pressure/ECG) and neurological (EEG/EMG) endpoints, as well as respiration, blood glucose, temperature, and locomotor activity in conscious, freely moving animals ranging in size from mouse to primate.  Other cardiovascular biomarkers can be calculated including heart rate and heart rate variability (HRV), of particular interest in air pollution research.
Below is a sample of publications citing the use of DSI solutions in studies on the cardiovascular effects of air pollution.
Cardiac effects of seasonal ambient particulate matter and ozone co-exposure in rats
This study looked at seasonal differences in particulate matter and its effect on a hypertensive rat model.  The rats were exposed to concentrated ambient particulates (CAPs) and ozone (O3) while implanted with DSI's telemetry.  The research team measured ECG, heart rate, and heart rate variability.  They also searched for spontaneous arrhythmias.  The results showed seasonal differences in particulate matter size, mass, composition, sources, and consequent cardiovascular responses.3
Long-Term Exposure to Concentrated Ambient PM2.5 Increases Mouse Blood Pressure through Abnormal Activation of the Sympathetic Nervous System: A Role for Hypothalamic Inflammation
This research team wanted to understand whether inflammation of the central nervous system causes the increase in blood pressure associated with chronic exposure to particulate matter.  To do so, they exposed mice to particulate matter and measured their blood pressure, heart rate, and locomotor activity with DSI telemetry.  The study concluded that the sympathetic nervous system activation, possibly involving hypothalamic inflammation, which occurs in response to particulate matter exposure, led to increased blood pressure.4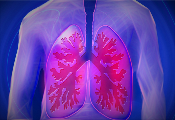 Effects of air pollution on the respiratory system
Air pollution exposure can also wreak havoc on the respiratory system as pollutants are breathed into the lungs.  Common related respiratory illnesses include asthma, allergies, chronic obstructive pulmonary disorder (COPD), and more.  DSI's Buxco respiratory solutions allow researchers to gather direct and indirect measurements including respiratory rate/volumes/flows, resistance, compliance, and lung characterization in animals ranging in size from small rodents to large animals (e.g. primate).  Researchers can also integrate respiratory solutions with the inhalation tower to measure the immediate effect of pollution exposure on respiration.
Below is a sample of publications using DSI technology in studies on the respiratory effects of air pollution.
A Muscarinic Antagonist Reduces Airway Inflammation and Bronchoconstriction Induced by Ambient Particulate Matter in a Mouse Model of Asthma
Inhalation of particulate matter is known to cause inflammation of airways and bronchoconstriction in asthma.  This research team studied the efficacy of tiotropium bromide, a long-acting muscarinic antagonist, in treating these effects in a mouse model of asthma.  They used DSI's Buxco Non-invasive Airway Mechanics system (double chamber) to measure specific airway resistance (sRaw) and FinePointe software to calculate breath frequency, tidal volume, minute volume, inspiratory time, and expiratory time.  The study results indicated tiotropium bromide reduced bronchoconstriction and airway inflammation.5
Benzo(a)pyrene facilitates dermatophagoides group 1 (Der f 1)‐induced epithelial cytokine release through aryl hydrocarbon receptor in asthma
This study also looked at the effects of pollutants on a mouse model of asthma.  Specifically, they studied the effects of benzo(a)pyrene (BaP), a common environmental pollutant, in combination with the allergen Der f 1 on the aryl hydrocarbon receptor (AhR).  They wanted to see if the co-exposure would activate AhR signaling which regulates oxidative stress, cytokine release, and allergic inflammation.  The team used DSI's Buxco Whole Body Plethysmography system (WBP) to measure airway hyperresponsiveness.  The results indicated the co-exposure increased lung inflammation and that BaP facilitates Der f 1‐induced epithelial cytokine release through the AhR‐ROS axis.6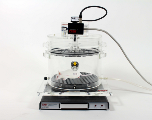 Combining technologies for a more holistic approach
DSI systems also allow the flexibility to combine technologies for a more holistic approach to air pollution research.  Researchers interested in measuring both respiratory and cardiovascular endpoints can utilize telemetry and respiratory systems simultaneously to collect and analyze data in DSI's Ponemah software.
Below is one example of a study employing both telemetry and respiratory solutions.
Dobutamine "Stress" Test and Latent Cardiac Susceptibility to Inhaled Diesel Exhaust in Normal and Hypertensive Rats
In humans, exercise stress testing is a common tool for understanding how much stress the heart can handle before adverse cardiac events occur.  In rats, a dobutamine challenge mimics this process.  The intent of this study was to see if a single exposure to diesel exhaust would increase the risk of events such as arrhythmia or heart attack in both normal and hypertensive rats during a dobutamine challenge.  DSI's Buxco WBP system was used to expose the rats to dobutamine while measuring ventilatory function.  The research team simultaneously measured cardiovascular endpoints including ECG and heart rate, as well as core body temperature using DSI telemetry to assess effects on the heart.  This study was the first to demonstrate comparable cardiac reactions to pollutant exposure in rats to those seen in humans, allowing for future exploration of preventative and treatment options with this model.  The results indicated exposure to even small concentrations of pollution can increase the risk of adverse cardiac events.7
Interested in learning more about DSI solutions for air pollution research?  Schedule a free consultation with us today and visit us at the following upcoming meetings:
November 17-20, 2019: American College of Toxicology, booth 213
March 15-19, 2020: Society of Toxicology, booth 722
References
1World Health Organization. (2019). "Air Pollution". https://www.who.int/airpollution/en/
2Stefaniak AB, LeBouf RF, Duling MG, Yi J, Abukabda AB, McBride CR, Nurkiewicz TR. (2018). "Inhalation Exposure to Three-Dimensional Printer Emissions Stimulates Acute Hypertension and Microvascular Dysfunction". Toxicology and Applied Pharmacology, 335, 1-5. https://doi.org/10.1016/j.taap.2017.09.016
3Farraj AK, Walsh L, Haykal-Coates N, Malik F, McGee J, Winsett D, Duvall R, Kovalcik K, Cascio WE, Higuchi M, Hazari MS. (2015). "Cardiac effects of seasonal ambient particulate matter and ozone co-exposure in rats". Particle and Fibre Toxicology, 12. https://particleandfibretoxicology.biomedcentral.com/articles/10.1186/s12989-015-0087-3
4Ying Z, Xu X, Bai Y, Zhong J, Chen M, Liang Y, Zhao J, Liu D, Morishita M, Sun Q, Spino C, Brook RD, Harkema JR, Rajagopalan S. (2014). "Long-Term Exposure to Concentrated Ambient PM2.5 Increases Mouse Blood Pressure through Abnormal Activation of the Sympathetic Nervous System: A Role for Hypothalamic Inflammation". Environmental Health Perspectives, 122(1). https://doi.org/10.1289/ehp.1307151
5Kurai J, Watanabe M, Sano H, Iwata K, Hantan D, Shimizu E. (2018). "A Muscarinic Antagonist Reduces Airway Inflammation and Bronchoconstriction Induced by Ambient Particulate Matter in a Mouse Model of Asthma". International Journal of Environmental Research and Public Health, 15(6), 1189. https://doi.org/10.3390/ijerph15061189
6Wang E, Liu X, Tu W, Do DC, Yu H,  Yang L, Zhou Y, Xu D, Huang SK, Yang P, Ran P, Gao PS, Liu Z. (2019). "Benzo(a)pyrene facilitates dermatophagoides group 1 (Der f 1)‐induced epithelial cytokine release through aryl hydrocarbon receptor in asthma". European Journal of Allergy and Clinical Immunology. https://doi.org/10.1111/all.13784
7Hazari MS, Callaway J, Winsett DW, Lamb C, Haykal-Coates N, Krantz QT, King C, Costa DL, Farraj AK. (2012). "Dobutamine "Stress" Test and Latent Cardiac Susceptibility to Inhaled Diesel Exhaust in Normal and Hypertensive Rats". Environmental Health Perspectives, 120(8). https://doi.org/10.1289/ehp.1104684